Is Body Detoxification Necessary?
Our body is loaded with toxins, which are poisons interfering with the normal energy flow and our ability to fight off incoming viruses or bacteria.  The ability of our liver to detoxify our body from substances to which we are increasingly exposed is a major determinant of our health.

When doing well, the liver removes the harmful agents from our system.  However, the more toxins accumulate inside our system, the less our body is able to detoxify itself through the elimination organs, and consequently our immune system starts malfunctioning making us prone to diseases.  A healthy liver, able to do its job of cleansing the body, will enhance resistance even to those cancers caused by environmental agents. But if we are aged, stressed, or overloaded with toxins, the overworked liver cannot detoxify us properly, meaning that toxins can mutate our DNA. That's how trouble begins.
Such a progression is generally been falsely considered to be a normal part of aging.  Even the loss of hair brought about by balding is related to deficiencies of oxygen and the build-up of toxicity. If balding is taking place, get a medical checkup because ailments such as diabetes, which contribute significantly to build-ups of toxins in the body, can be a factor in accelerating the condition.  Studies have linked toxins to several other diseases, including chronic fatigue syndrome, cancer, Parkinson's disease, and fibromyalgia.
Endogenous toxins are self-created toxins. They are resulting from imbalances in our system, mostly from over-indulgence of acid-forming foods and substances. We have been deeply brainwashed to believe that we must consume large amounts of acid forming protein to be healthy! A bad diet and too much protein cause over-acidity, which depletes the necessary electrolytes and minerals from our body. This results in an inability of our bowel to fully process an overload due to a lack of electrolyte minerals required. The accumulation of endogenous toxins in our body can also result from overeating and stress.
Exogenous toxins are entering our bodies through chemicals found in our food, pesticides, polluted environment, antiperspirants, cosmetics, or even prescription drugs. Our daily exposure to these toxins causes our immune system to work overtime and weaken. Experts agree that everyone should detoxify at least once a year and a short detoxifying program is generally safe and beneficial for health.
Toxins and Obesity
An epidemiological survey from the UK showed that the counties of the UK that suffer from the highest levels of industrial pollution also demonstrate the highest rates of obesity. There is obviously a link between toxicity and obesity. More studies have shown that obese people have high levels of toxins stored in their fatty tissue.
Our body stores toxins in fat cells in an attempt to protect us from the toxins circulating to vital organs. As one is exposed to more toxins, more fat cells are needed as a storage place. As a result we develop "toxic obesity". A lot of cases of obesity are due to toxicity.
When we start losing weight, the toxins are released in the bloodstream causing uncomfortable symptoms like headaches, rashes, congestion, diarrhea, allergies, mood swings, insomnia, etc. In order to prevent discomfort, our body wisely starts craving for foods that promote the building of fat again, sabotaging our previous efforts to lose weight. If the body does not have sufficient fats to bind the toxins, it will use calcium to bind the toxins. Now, if we are blocking the calcium with medications, there is nothing to bind the toxins and we end up with a heart attack!
Additionally, in an effort to prevent harmful effects on the cells, our body dilutes the toxic body fluids. The result is fluid weight gain. This is how toxins can be responsible for a vicious weight cycle.
Additionally, toxicity interferes with satiety signals. It takes longer for the brain to get the message that we are full and need to stop eating. Toxins slow our metabolism, and damage the mitochondria that provide us with energy. No wonder we feel tired and get fat! Overeating leads to an overuse of enzymes, and can cause our colon to work even harder.
Conclusion
All fitness experts are unable to help us lose the plaque and toxins that are stuck to our colon walls! If our colon is in poor health, we are unable to attack harmful bacteria and toxins. By cleansing our colon and detoxifying our liver and kidneys, we are ridding our body of toxins. By restoring our overworked organs, we help reverse the aging process, live a longer and healthier life and reach our weight loss goals.
Any weight loss or weight maintenance program has to support ongoing detoxification. As explained above, toxins sabotage our effort to lose weight. We have to detoxify. Colon cleansing is the new face of fast weight loss and beginnings to rejuvenation. We found that Dr Natura's Colonix and Toxinout along with Suzannes Gudakunst's healthy and detoxifying diet described in the "Top Secret Fat Loss Secret" do just that.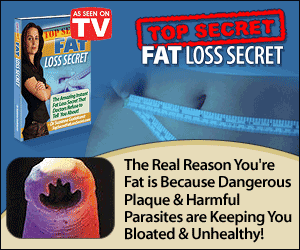 "The colon is a sewage system, but by neglect and abuse it becomes a cesspool. When it is clean and normal, we are well and happy; let it stagnate, and it will distill the poisons of decay, fermentation and putrefaction into the blood, poisoning the brain and nervous system so that we become mentally depressed and irritable; it will poison the heart so that we are weak and listless; poisons the lungs so that the breath is foul; poisons the digestive organs so that we are distressed and bloated; and poisons the blood so that the skin is sallow and unhealthy. In short, every organ of the body is poisoned, and we age prematurely, look and feel old, the joints are stiff and painful, neuritis, dull eyes and a sluggish brain overtake us; the pleasure of living is gone." – Dr. Bernard Jensen, D.C., Ph.D., from his Doctor-Patient Handbook
Filed under Blog, Fat Loss and Toning by admin